Considered the brain of the smart home, the Home Controller is an indispensable device in the Lumi Smart Home system.
Using two Zigbee and Bluetooth Mesh wireless communications – the most stable and most suitable technology for Smart Home, Lumi's central controller is capable of connecting up to 500 network nodes, 200 devices are recommended. in 1 system. Taking 2 colors of black and silver as the main color and compact and sophisticated design, the central controller, when installe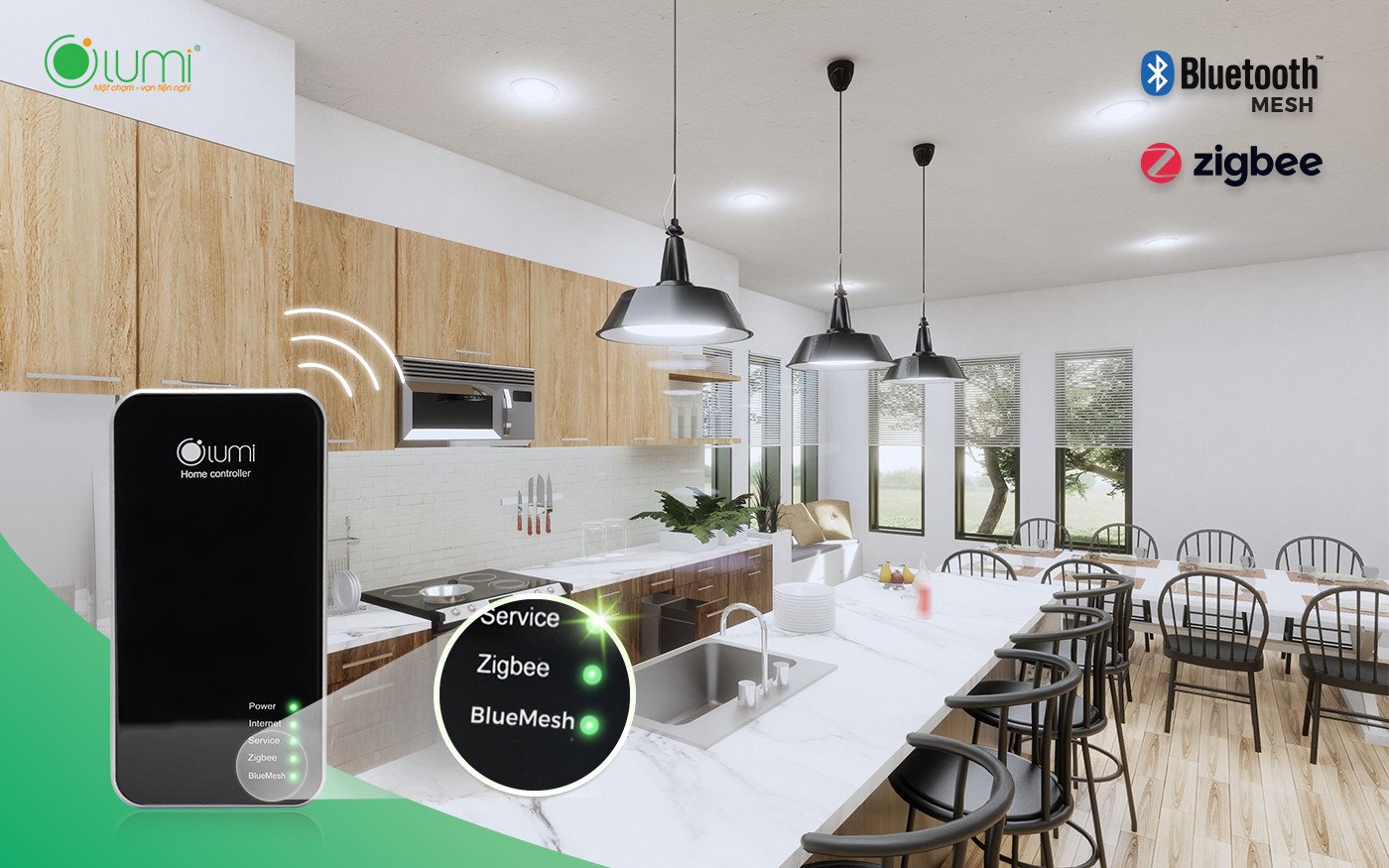 1. Features Central controller in smart home
Home Controller is the center for receiving and processing commands in smart home. Through Zigbee wave or Bluetooth, the central controller is connected with smart home electrical devices such as smart switches, motion sensors, smart curtain motors, smart lights … Thanks to that, The commands to turn off the lights, turn on the heater, open the curtain, … are executed according to the wishes of the user. In general, all smart control commands from smartphones or virtual assistants are processed quickly and smoothly by the central controller. Therefore, it can be said that the function of the central controller is to process all the control commands of the user
Turn on / off / timer all electric lights in the house
Change the color and brightness of the lights according to the owner's wishes
Close / open / timer curtains by Smartphone and voice
Set up smart live scenarios such as: automatically turn on lights when motion detection, group scenes, schedule, create rules for smart devices to work simultaneously …
2. Advantages of the Lumi Central Controller
Supporting both Zigbee and Bluetooth Mesh waveforms, it can be said that the biggest advantage of the Lumi central controller is stable operation and energy saving.
If Zigbee is a wireless standard specializing in Smart Home, which is favored by many major brands, Bluetooth Mesh is also considered as a "shoemaker" for Smart Lighting. Thus, Smart home fans do not have to worry about the difficulty of buying more smart devices in the future, because the two most stable and best rated wireless standards today are supported by Lumi. .
In addition, server Lumi has successfully integrated with Server of Amazon – USA to create smart home solution with voice control. Allows users to completely control and control the devices in the house with their own "powerful voice". When you say the command "Turn on go home" or "Turn off go out" all devices in the house will be turned on / off completely, depending on the command.
In addition, if users use HC (the version with BLE support) in Smart Lighting system, users can enjoy the smart lighting utilities as follows:
Turn on / off the light with Smartphone
Change living room lighting color
Increase / decrease brightness as desired
Flexible control of lights according to each area, helping to save maximum power consumption
3. How it works
The smart home controller receives the signal from the sensor or the user, and then sends it to the server. After receiving the information, the central controller – HC transmits the signal to the device control switches, or to the smart lights in the Lumi Smart Lighting unit to execute user commands.
For example: When the motion sensor detects motion send a signal "someone moves into the sensor area" to the HC. Here, HC transmits the received signal to the switch connected to equipment such as hallway light, tube light … will automatically turn on / off.
In addition, HC also allows users to create animations. For example: You can create a scene by using 1 button switch to turn on or off all indoor devices, just need 1 direct touch like a mechanical switch or on the phone, you have complete control. electrical appliances in the house. Similar to the scenes: receiving guests, having dinner, going home from work … for household appliances.