Lumi Vietnam officially signed a cooperation agreement with Thai Nguyen University of Technology on May 19, 2022, and launched the Smarthome-IoT Research and Development Department.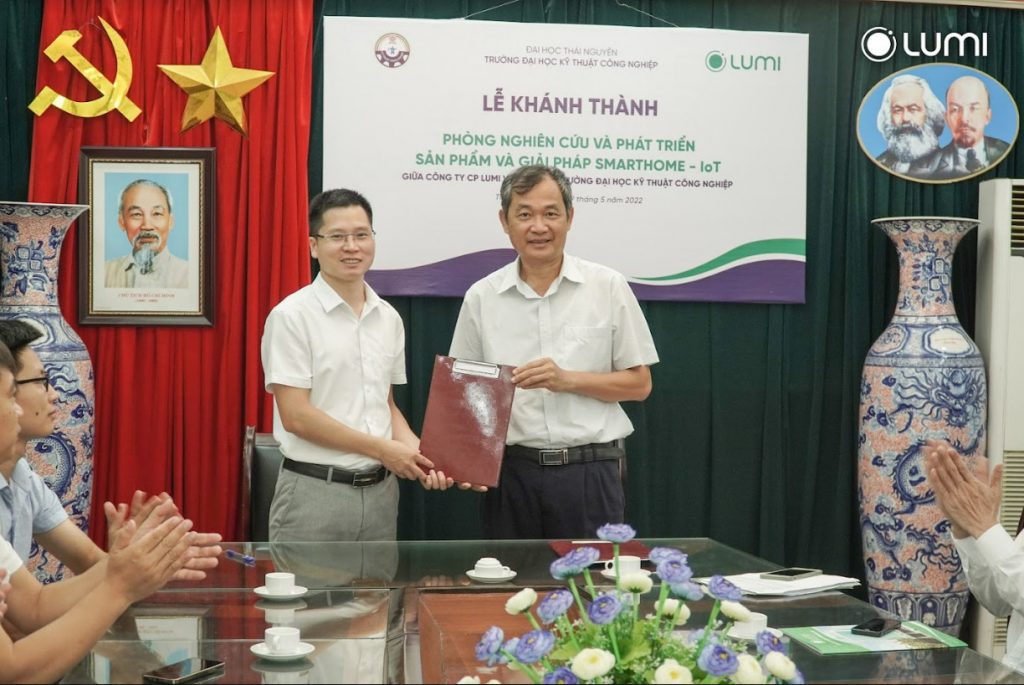 Following the Vietnam Smarthome Report 2022 and Lumi Vietnam's 10th anniversary, this ceremony continues to be a new step in affirming the mission of a "Make in Vietnam" smarthome brand. Lumi hopes that through this collaboration, it will be able to assist the university in promoting the learning theory process and practice for students as early as their undergraduate years. At the same time, this is regarded as the mission of one of Vietnam's leading Smarthome / IoT enterprises.
Accordingly, Lumi Vietnam has sponsored smarthome solution equipment for Smarthome- IoT Research and Development department at Thai Nguyen University of Technology. These are the latest products researched, developed, and served by Lumi engineers in Vietnam and many countries worldwide.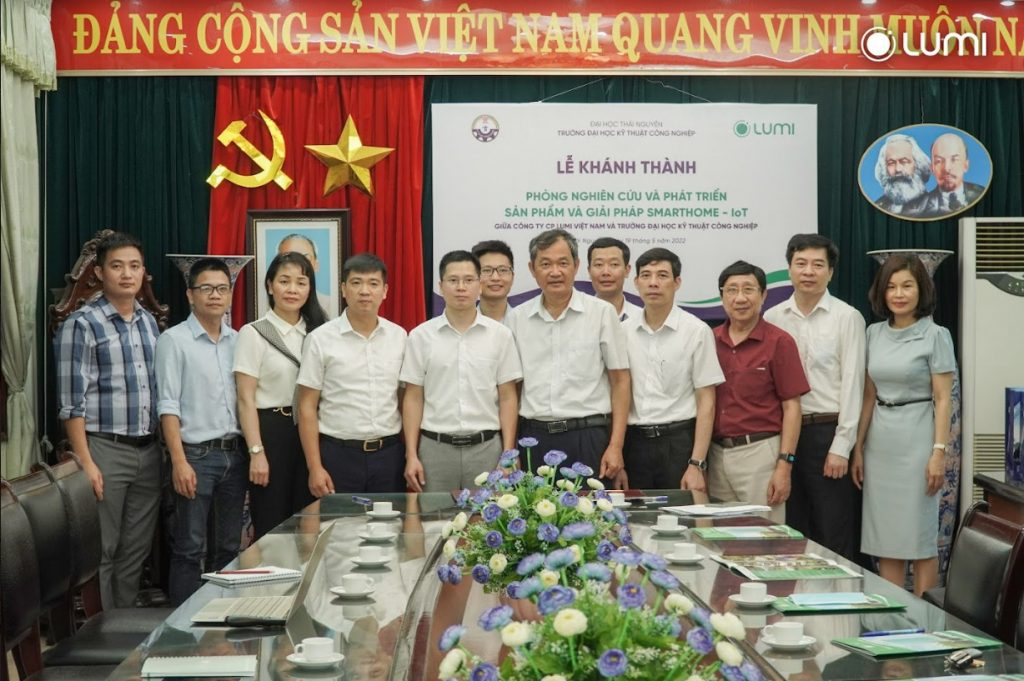 Lumi Vietnam has sponsored smarthome solution equipment for Smarthome- IoT Research and Development department at Thai Nguyen University of Technology
At the same time, Lumi is also committed to developing long-term plans to support and promote teaching and learning in IoT, Smart Home at the School of Electrical Engineering, including the sharing of documents with two training modules for embedded programming and connected programming LUMI wireless for student training. Additionally, assistance to the school's lecturers in preparing practical manuals for the subjects taught in the LAB room.

Smarthome – IoT Research and Development Department helps students gain practical knowledge and conduct experiments before graduating from university
At the event, Mr. Nguyen Duc Tai – CEO of Lumi Vietnam, shared: "Hopefully, with this cooperation, Lumi will bring the latest technology solutions in the IoT field in general and our Lumi Smarthome solutions in particular, serving the teaching and learning of the School's Electrical Department, begins with building a LAB with full equipment and products of LUMI at the school."
Simultaneously, CEO Nguyen Duc Tai emphasized: "The issue of IoT human resources is unending. This is also a concern for Vietnamese universities and businesses. Because the revolution is rapidly approaching, there is no difference between studying in a lecture hall and performing actual work as newly graduated personnel. We believe that more responsibility is required to support the development of high-quality IoT human resources for the country ".
Lumi Vietnam continues to affirm its position and contributions to developing quality IoT human resources with a series of coordinated activities across the country following its 10th anniversary and re-branding for a new development journey. Following Funix online university and Vietnam National University, Thai Nguyen University of Technology remains a point of collaboration.
Lumi Vietnam, like the previous cooperation strategy, hopes to contribute to the solution of high-quality smarthome and IoT human resource problems for many Vietnamese businesses, thereby promoting the development of technical engineers in Vietnam in the new era.
__________
Lumi Vietnam is the leading brand in the smarthome market in Vietnam. Established in 2012, after a decade of development, up to now, Lumi has provided smarthome solutions to over 50,000 domestic and international customers, winning numerous awards and professional certifications. The company currently has 135 distributors spread across 63 provinces and cities in Vietnam, exporting self-researched and manufactured products to foreign markets such as India, Thailand, Singapore, Cambodia, Australia, and Brazil.