On the morning of April 27, 2022, Lumi Vietnam held an event to celebrate its 10th anniversary, IoT/Smarthome Vietnam Conference, and announced repositioning. Especially the strategic product development orientation of 2022 of a technology company, Make in Vietnam, has received a lot of attention and surprise from experts.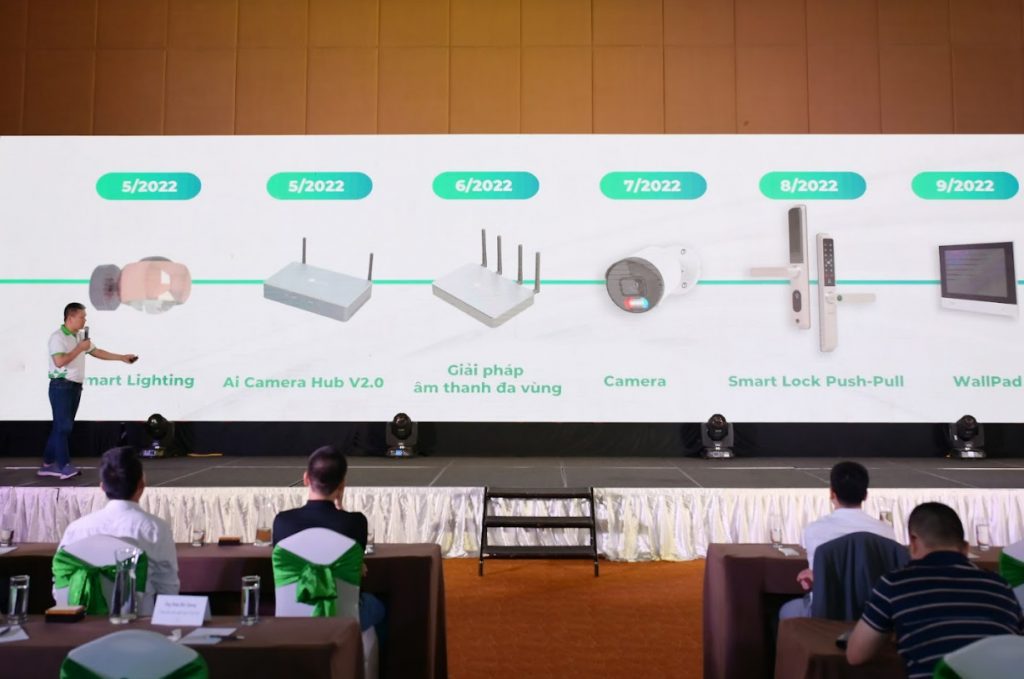 Mr. Pham Quang Luyen – Creative Director of Lumi Vietnam shared about the product development orientation in 2022
A decade of delivering remarkable smarthome products Make in Vietnam
Lumi Vietnam, founded in 2012 by three former BK-TNT Robocon team members from Hanoi University of Science and Technology, is a monument to Vietnamese intellectual aspirations to create Make in Vietnam products.
Lumi has a strategy to build a source of quality IoT engineers by internally training, cooperating to train a source of quality IoT engineers with other leading training institutions such as National University, Funix University, Thai Nguyen University… to research the core of the product, thereby creating the most valuable product that can be developed later.
Simultaneously, the smarthome CEO stressed the importance of R&D: "We recognize that without R&D, firms remain outside the revolution; it is difficult to do so without a core force of basic research. Always following or following, inheritance and development."
As a result, Lumi is one of the Make in Vietnam technology firms with a sophisticated product development process. There is a phase in product quality check after each cycle in the product development process. At the same time, rather than merely developing products in the R&D department, the production department is also participating in the same R&D block to ensure that the product is thoroughly examined and practicable from the research and development stage to the production step.
Not only that, but Lumi receives regular input from customers on previously announced and released goods in order to improve product quality, not only from hardware but also from software. Lumi produces standalone goods to progressively approach and "teach" the market in the long run, integrating products in the smarthome ecosystem and understanding the needs of utilizing individual products. For example, separate goods, such as smart locks and smart cameras that do not need to be connected to Central Controllers have received positive market feedback.
Lumi Vietnam has established an ecosystem of 65 smart home gadgets thanks to this strategy during the last decade. At the same time, the brand has found over 135 distributors in 63 provinces and cities in Vietnam and has exported to numerous countries worldwide, including India, Israel, and Thailand. Lumi smart home has served over 40,000 customers and projects ranging from residences and villas to flats in Vietnam and other countries.
What distinguishes Lumi Vietnam's product development strategy?
Lumi, the most popular smarthome brand for two years in a row at Tech Awards, invests in product development and actively analyses the industry with the Vietnam Smarthome Report 2022 based on feedback from 10,000 customers. Lumi is helped by the system approach to grasp that simply pausing and being pleased with existing activities will make it difficult to develop in the context of the quickly changing industrial revolution 4.0.
Lumi is almost the only unit in Vietnam that consistently launches the first smarthome goods and pioneers in the market in order to maintain a competitive advantage, even against branded smarthome foreign brands. Lumi's factory, with a total area of 9000m2, is expected to open in 2023 in Thang Long 3 Industrial Park, an industrial park managed by Japan's Sumitomo Corporation with synchronous and modern infrastructure, ensuring Lumi's strategic products are actively produced and comprehensively controlled in accordance with ISO 9001 international standards.
Lumi conducts research and development on its own and collaborates with many large domestic and foreign enterprises to leverage each party's expertise, such as collaborating with Vietnamese-Tibet keys to develop smart locks and Pavana in developing smart cameras in products that have received a positive market response. With a 10-year goal, the organization is expected to take strategic cooperation with numerous partners to a deeper and larger level.
"Doing completely" and "doing well" are no longer sufficient; Make in Vietnam companies like Lumi aspire to "move faster" on the product development path. This is also the company's statement in this re-branding.
Lumi Vietnam's new brand design will have a dark green color scheme and a logo with harder, more muscular lines, implying that the company is embarking on a new journey of maturity and taking bold leaps. At the same time, the logo represents greater openness, cooperation, creativity, and innovation in the research, development, and manufacture of technology goods for customer service.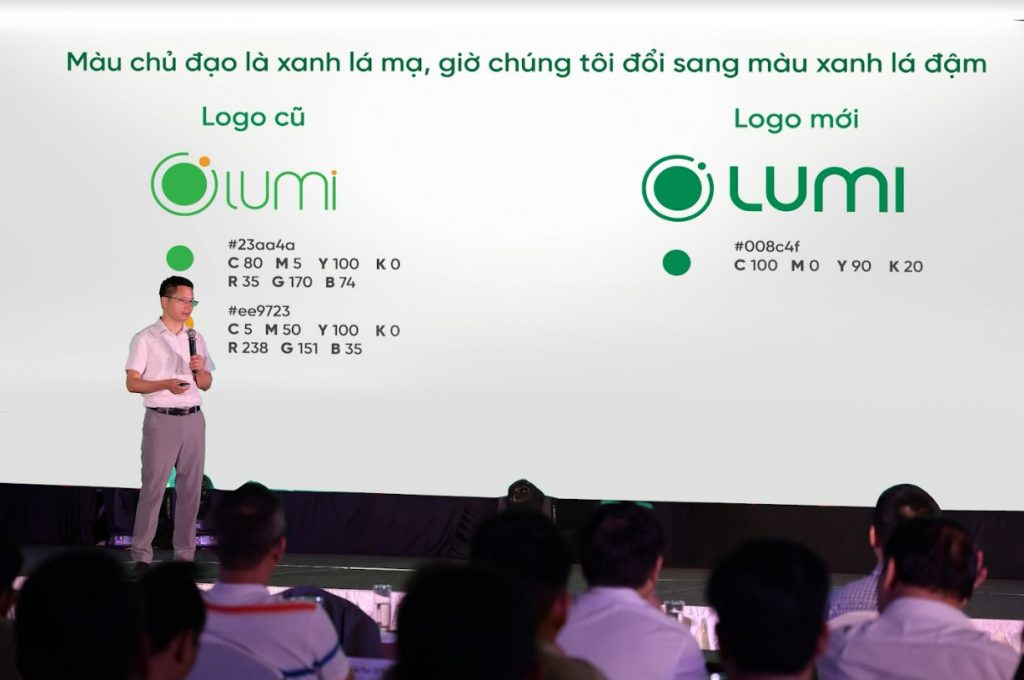 Mr. Nguyen Duc Tai – CEO of Lumi Vietnam gave a speech at the event
In 2022, the business will launch products derived from the existing platform, providing users with alternatives such as Camera Ai, Smart Lighting, WallPad, Smartlook 2nd generation, and so on. Lumi smarthome CEO Nguyen Duc Tai stated: "The selection of WallPad, Smart Lighting, AI Camera, or smart lock stems from the fact that these are products with a big proportion of hardware and simpler software architecture. Furthermore, the markets for Wallpad, cameras, smart locks, and smart lights must all be large. So Lumi, a Made in Vietnam firm, has a shot."
Despite the shift in brand identification and the "cooperation and alliance" focus on strategic product development, Lumi's basic principle remains unchanged: "product quality is a prerequisite." Lumi retains the status of a brand in every technology solution presented to the market – clever, creative, attractive, Make in Vietnam.
Souce: tienphong.vn