Improve your living space with smart and personalized music
It would be boring if there was no "presence" of music in the living space. As a result, the multi-room audio solution is an essential link in ensuring that the house of the 4.0 era is smart and meets the needs of homeowners' lifestyle and art enjoyment. Following the success of previous versions, Lumi's latest generation of multi-room audio will be the ideal piece for enhancing the audio experience in the living room.
Just 3 seconds needed to open music from Lumi Music, Lumi Life app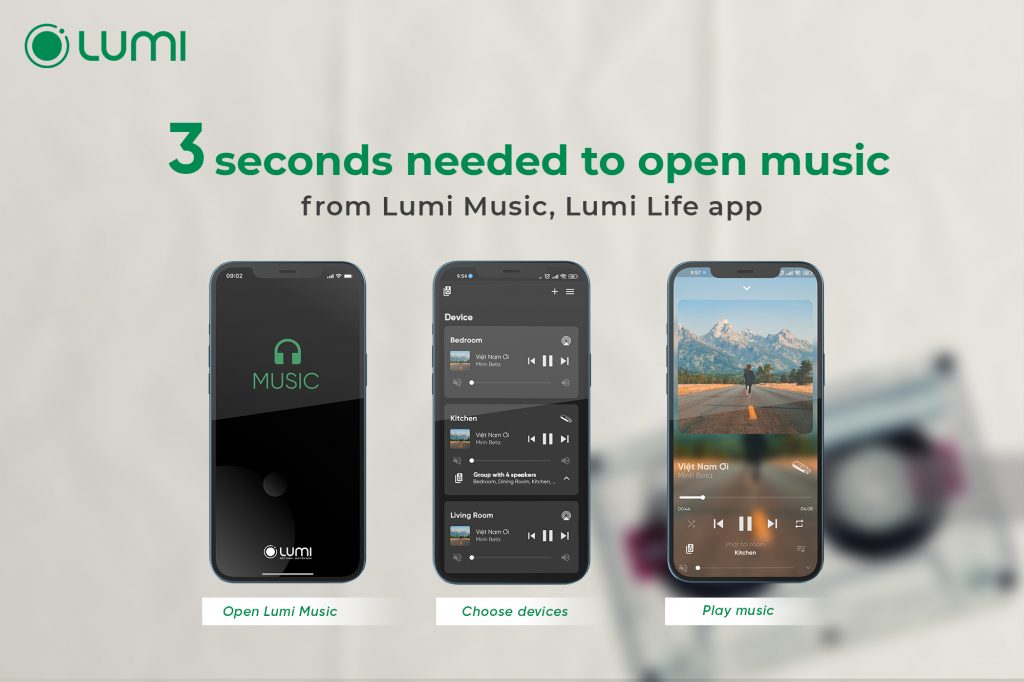 With the user experience as a top priority, the new generation of multi-room audio is supplemented with Lumi Music in addition to the standard Lumi Life application.
Users can select, play, or schedule the playback of their favorite song for the entire living space from their smartphone in just 3 seconds, thanks to the simple and intuitive interface. The operations are designed to be simple so that even the youngest or oldest members of the family can quickly become acquainted.
When it comes to sound quality, it is a determining factor in the user's listening experience. The high-quality audio codec that meets the Hi-res standard is the secret to providing a lively sound source, bringing a pleasant feeling, and creating genuine emotions for listeners in this latest version.
Multi-modal control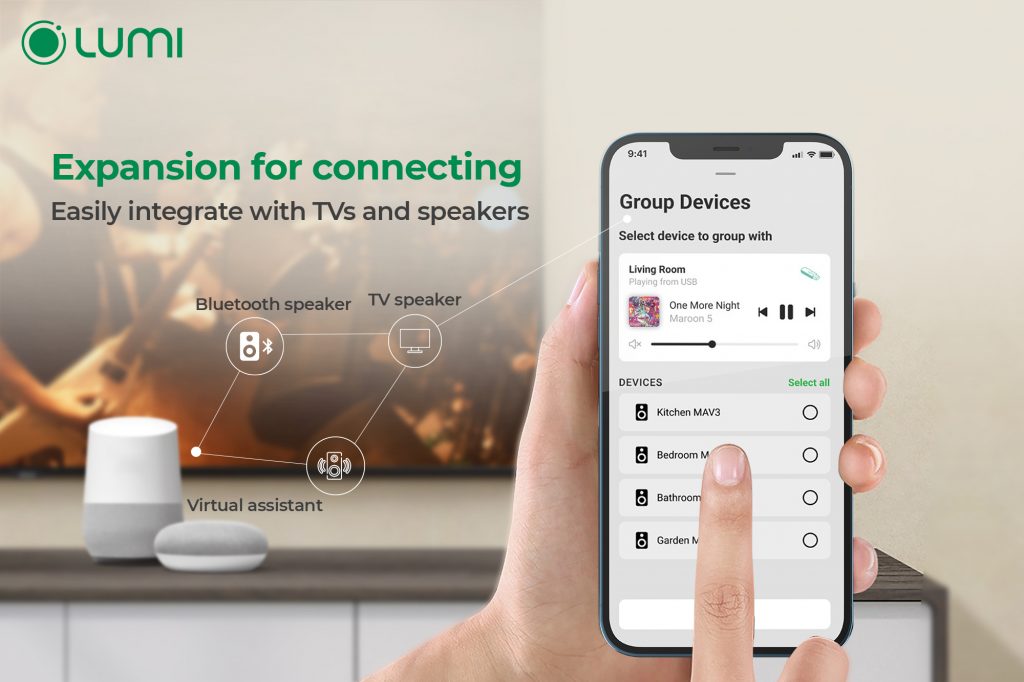 You can control the multi-room audio system for family members wherever you are. A smartphone button and multi-room audio for parents who frequently travel for business will care for their loved ones' sleep with melodious and smooth melodies.
Do users want to cook, do housework, and listen to music all at the same time? The voice control method will take the place of occupied hands in "commanding" the speaker system to play cheerful melodies and relieve fatigue. The new generation multi-room soundbar transforms into a musician who is always ready to listen to all owner requests by connecting with virtual assistants such as Google Assistant and Maika smart speaker.
Integrated with other smart devices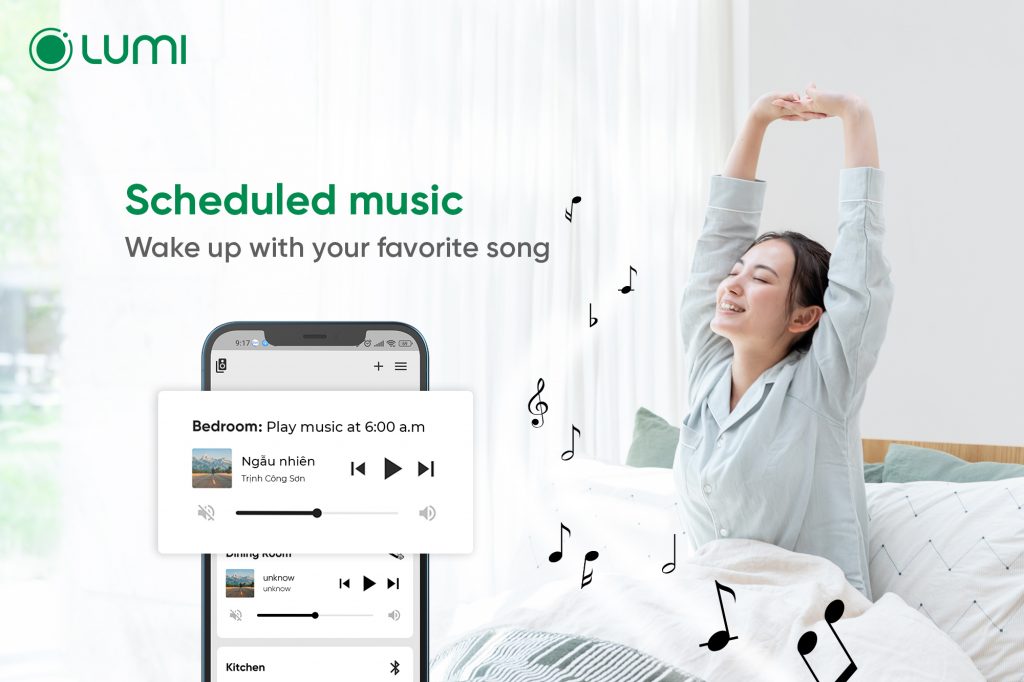 The ability to integrate with devices in the Smart Home ecosystem transforms Lumi's new generation multi-room sound system into an indispensable piece for a new rhythm of life.
That's when your house appears to have a skilled and understanding band. Imagine a home that greets the entire family with their favorite music and soft lighting every time they return, wakes the owner at 6 a.m. with vibrant music, and sounds an alarm when an unauthorized entry occurs. Music is now a seasoning for emotions and a genuinely comfortable part of modern life, thanks to the new generation of multi-room audio.
Based on their creativity and imagination, music-loving homeowners can completely transform their living space into a musical world.
Expansion for connecting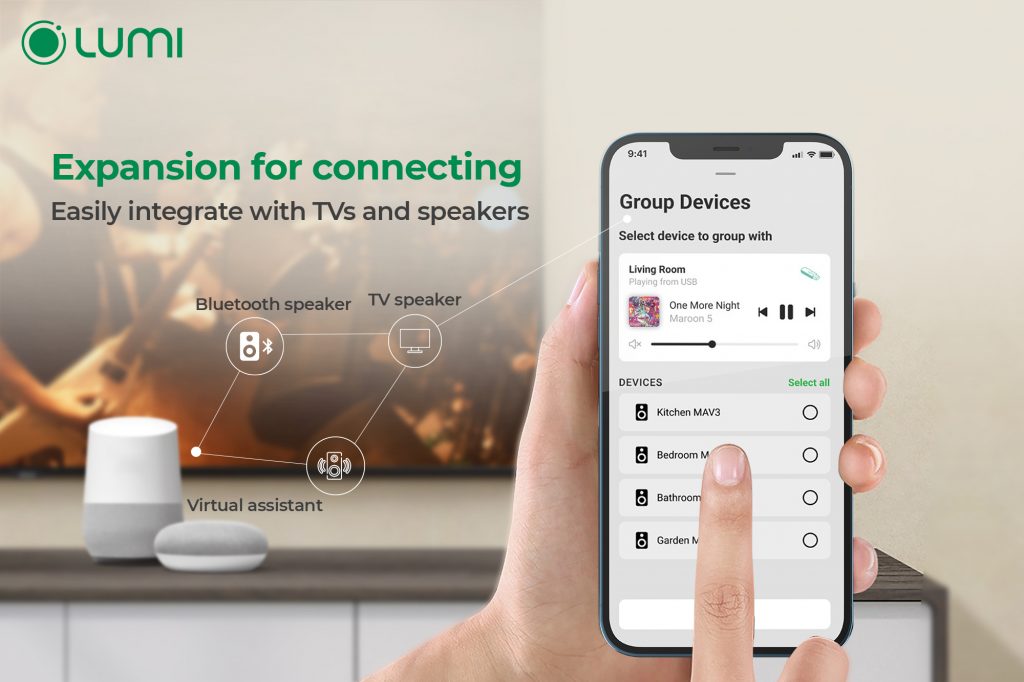 Lumi's multi-room audio module is always ready to connect to the market's most popular speaker systems. It does not necessitate a powerful device platform operating system. Everything can become a synchronous and easy-to-control audio network, from smart TVs and portable speakers to living room sound systems.
Lumi's new generation of multi-room audio meets the strict demand for music quality with diverse music sources, from USB and cloud to popular online music sources like Spotify, Tidal, and Deezer. A multi-room audio system brings every musical taste and style to life in your home concert.
The new generation of multi-room audio, developed as a stand-alone solution, can be fully realized by connecting to a conventional speaker system. Homeowners can immediately own a modern multi-room audio system with only modular equipment and available home speakers without access via a smarthome app or link to a central controller.
It can be said that the ability to connect smoothly and operate independently – flexible integration and minimalist operation are the outstanding benefits of the Lumi Music multi-room audio generation. The new generation multi-room audio system will be an indispensable solution for modern life and a lifestyle that enjoys every moment to the fullest, in addition to the facilities serving lighting and security needs.
Keep an eye out for updates on the next generation multi-room audio – Your home, your way to play music on the Lumi Smart Home Vietnam Fanpage and YouTube, and prepare to imagine your own scenario!